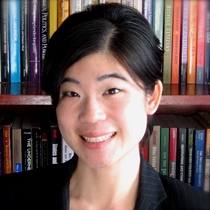 Alice Kang
Assistant Professor
At A Glance
540 Oldfather Hall
Alice Kang holds a joint position in the Department of Political Science and in the Institute for Ethnic Studies (African-American and African Studies). She teaches about Africa, women and politics, democracy, and comparative politics. Her research examines the diverse and local realities under which African women and men struggle to improve their lives. She is working on a book manuscript on religious and women's demands to improve women's rights in a predominantly Muslim African country (the Republic of Niger). Dr. Kang's other research interests include women's political representation, the mobilization of women's activists across borders, and the quality of health services in West Africa's democracies and autocracies.
Before entering into academia, Dr. Kang was a Peace Corps community health volunteer in Burkina Faso. After Peace Corps, she was a consultant for the International Foundation for Electoral Systems, an international non-profit based in Washington, DC, where she worked on civic education and election commission programs in Benin, Guinea, and Mali.
Research Areas
Comparative politics
Women and Politics
African Politics
Current Research
The domestic politics of women's rights in Muslim-majority countries
The effects of democratization on (maternal) health care in West Africa
The politics of remembering past presidents in Africa
Awards
National Science Foundation Collaborate Research Award, "International Influences on Appointments to High Courts," 2013-2016
Fulbright Hays Doctoral Dissertation Research Award, U.S. Department of Education, 2007-2008
Hyde Dissertation Research Award, University of Wisconsin-Madison, 2008
American Political Science Association Women's Caucus, Alice Paul Dissertation Prospectus Award, 2007
Foreign Language Area Studies Fellowship, African Studies (Hausa), University of Wisconsin-Madison, 2004-2005, 2005-2006
Publications
Kang, Alice. 2013. "The Effect of Gender Quotas on the Election of Women: Lessons from Niger." Women's Studies International Forum 41 (2): 94-102.
Kang, Alice. 2009. "Studying Oil, Islam, and Women as if Political Institutions Mattered." Politics & Gender 5 (4): 560-68.
Tripp, Aili Mari and Alice Kang. 2008. "The Global Impact of Quotas." Comparative Political Studies 41 (3): 338-61.
Adams, Melinda and Alice Kang. 2007. "Women's Regional Advocacy Networks and the African Union Protocol on the Rights of Women." Politics & Gender 3 (3): 451-74.
Career Highlights
PhD, University of Wisconsin-Madison
Links
In The News
Website